Welcome to EQ2U!
EQ2Wire is proud to introduce a website built on the remarkable EQ2 Data Feeds API. As a guest, you get all the functionality of the original EQ2Players site such as searching for Characters, Guilds, Items, and Spells in EverQuest II.
Register
an account with EQ2U. It's fast, free, and painless and you'll gain access to a growing pool of features to improve your characters and gameplay. With an account, you'll be able to follow your own characters, add Friends and Guildmates, then build
Item Wishlists
and save Beetny.com AA specs right on your character.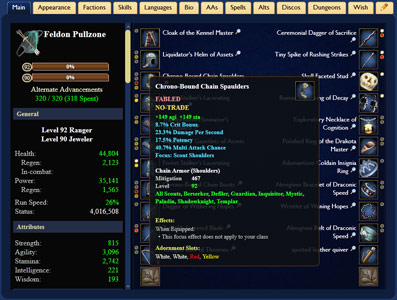 We are working diligently to add additional features like Quests, NPCs, Loot, and add more guided information to the site. PLEASE read the
Help & FAQs page
as it contains answers to a lot of questions you may have.
Please Donate to EQ2U!
Your donations make it possible for us to continue to operate and update EQ2U!
Privacy
EQ2U uses realtime character, guild, and item data provided to us by SOE. If you wish to
Opt-out Characters and/or Alts
, please read our
Frequently Asked Questions
page.
If you have any further questions about Privacy, please take this up with SOE rather than trashing us on the forums.
EQ2U Update Notes
May 12, 2013
Achievements may now be filtered by Completed or Incomplete, and you can also hide Hidden achievements
May 5, 2013
Guild Search form now lets you specify Server, minimum Level, minimum number of Accounts, Alignment, as well as the Play Style and Personality guild recruiting flags.
Login form now uses tabindex.
AAs now show Descriptions
May 2, 2013
Racial Traits and Class Focuses can now be viewed for characters.
April 29, 2013
Item Search: Added Adornments, Collectibles, Mounts, Poisons, Status Items, as well as Tinkered and Transmuted items
April 10, 2013
Ill Will and Rancor now show item upgrade information.
March 26, 2013
Guild Achievements Ranking
PvP/PvE Character Stats
Revamped Spells view
March 14, 2013
Find which Recipe Book a crafted item is from.
Show a list of items in a Set Bonus group.
March 11, 2013
Ammo items show Hit Bonus, Range, and Damage type
February 28, 2013
February 27, 2013
New Guild Display! -- Recruiting flags and Guild Heraldry
Guild Achievements!
February 10-19, 2013
New Item Types: Patterns, Coin Purses, Miscbags (Containers), Guild Status Items, Transmuting Materials, Harvested Raws, and Collectibles
New Item Fields: Temp Adorn Placement, House Placement (guild hall/house/dungeon/all), House Surface (floor/wall/ceiling)
Item Set Bonuses -- Consider this a Beta.
January 7, 2013
Weapons now display the correct wield type and handedness.
December 26, 2012
Updated numerous Spell icons and Alternate Advancement/Prestige icons to reflect a recent Game Update.
December 21, 2012
EQ2U now fully supports Spirit Stones (green adornments) equipped on Characters, viewed on Details, or as Popups!
Numerous other tweaks to Item Details / Popups mostly related to Adornments.
December 20, 2012
Removed Plane of War EM Achievements which were preventing us from showing Plane of War HM Achievements. Also removed some typoed Achievements.
December 17, 2012
December 4, 2012
Item Popups (tooltips) on EQ2U have been completely rebuilt from the ground up with much better screen positioning.
Spells pages now use our internal EQ2U Popup code
November 23, 2012
Search for Items by Adornment Slot
November 21, 2012
EQ2U Signatures now support French, German, and Russian!
Item stats/effects for non-Spirit Stone items restored!
November 20, 2012
Added temporary Spirit Stone (green adornment) screenshots
November 15, 2012
Fixed Beastlord Warder AAs navigation
November 13, 2012
- Chains of Eternity!
Totally Updated AA/Prestige Abilities for Chains of Eternity
Added Tradeskill Prestige AA Tab
Item and Character Searches Up to Level 95
Character Spells up to level 95
Added Experimentation Skill
November 4, 2012
Item Examine popups that appear to the left of the mouse cursor should now clear it, preventing flickering.
October 28-29, 2012
We have backed up the Alternate Advancements of every Followed character (1-92) and every other 90-92 character (even if they are not followed on EQ2U). Check your Character Details sheet.
Items which require Adorning or Tinkering skill to use are now labeled as such.
October 24, 2012
Forgot Password link now handles accounts which were never activated.
Improved Beetny AA Link display
Fixed Recipe Book detection code for Fighter and Scout spells to not affect other items.
October 19, 2012
Achievements have been added to EQ2U!
October 15, 2012
Added a 'Go to Advanced Search' link on Items Search on the homepage.
Dungeon Maker buttons now light up.
September 24, 2012
Reforged Items now have a special icon in Character Details.
Item Effect lists can now handle "quotes".
Corrected rares for crafting spells/combat arts at level 70 and 90.
September 8, 2012
Shortlinks have been added to Player, Guild, and Item pages.
June 22, 2012
EQ2U Signatures are now available.
May 23, 2012
Full implementation of Beetny.com AA links
May 10th, 2012
Spell Weapon Stats, Flurry, and Doublecast added to character profile
Item Search Results now show the search criteria and provide a Permalink to those search results
May 6th, 2012
Added more Item Search options.
April 19th, 2012
Added Prestige AAs
Added Latest Discoveries
Added Beastlord 'Insect' Warder Support
April 18th, 2012
Added all Level 91 & 92 Spells
April 3rd, 2012
Added support for Item Reforging on Character Details popups
March 12th, 2012
Added Dungeon Maker Items & Dungeons
March 9th, 2012
Item Examine: Indented item effects now have bullets, and other tweaks to Item Details and Hover.
Item Examine: Added Weapon Type (One-Handed Slashing, Two-Handed Crushing, One-Handed Piercing).
Character names in the Wishlist sidebar are now clickable.
March 7th, 2012
Added Character Discoveries
March 2nd, 2012
Added Citadel of V'uul x2 Item Drop Info
Added Elements of War EM/HM Item Drop Info
Added Drunder Heroic Item Drop Info
Fixed a bug where Guests would have some Item Search Results filtered.
February 11th to February 28, 2012
Added font definitions to Tabs and a few other places to better address Firefox browsers with a default font other than Times New Roman 16pt.
IE7, IE8, and IE9 should now render the site in Standards rather than Compatibility mode.
Item Links to EQ2i, Zam, Xanadu, LootDB, and Google
Item Discovery information on Items
Appearance tab
Updated Tabs with a new look. Tabs now work on previously non-tabbed pages.
Character Alts
Spell icons on Spell lists
You can now Sort your Character List and Guild views.
Character lists now have Race icons
Beastlord Warder hovers are now loading the correct Warder image.
Tower of Frozen Shadow x2 Item Drop Info
All Velious heroic zones and Public Quests (except Drunder) now have Item Drop Info.
February 10th, 2012
In Development
Loot!!!
Class Focus/Racial Traits
Character Switcher Popup
Customized Home Screen